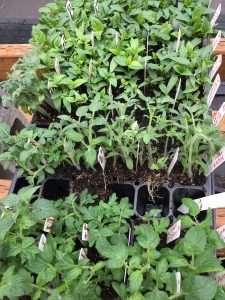 The propagation greenhouses are full, and production of baby plants is at full capacity.  Orders have been closed on the shop since we no longer have time to grow out custom orders before it is time to plant them in your garden.  There will be plants available for retail sale in April and May, though, including some things that didn't make it into the catalog.
Between the new shop (300 entries added to the catalog this winter!) and the weekly newsletters, I've been neglecting the main website, which makes it hard for anyone new to see what's going on.  I'll be working on back-loading the newsletter content into this site, though, and going forward the newsletter content should appear here within a week or so of being emailed out.
On the tomato front we have around 200 varieties in production for either sales or seed production.  We have another 50 or so that are new to us and under evaluation.  And, of course, we have the dwarf breeding project lines both old and new that we're working on, as well as a pink cherry tomato that I'm really hoping to find a good selection of this year.  At F7 the "easter egg" line still shows far more variability than expected, so it's hard to say when this one will finally get nailed down.
Peppers sit at 45 varieties being grown for sale, seed, and testing, plus two dehybridizing lines that I'm investigating.
More interesting things (and pictures!) soon…